CURRENT CLASSES
Firebird NEST Playwriting Workshop & Festival (ages 13-18)
wednesdays 12:30 - 2:30pm
Firebird NEST is a playwriting workshop for young theater enthusiasts. Over the course of a semester, workshop participants work on individual short plays, which will later be presented as staged readings in a performance festival.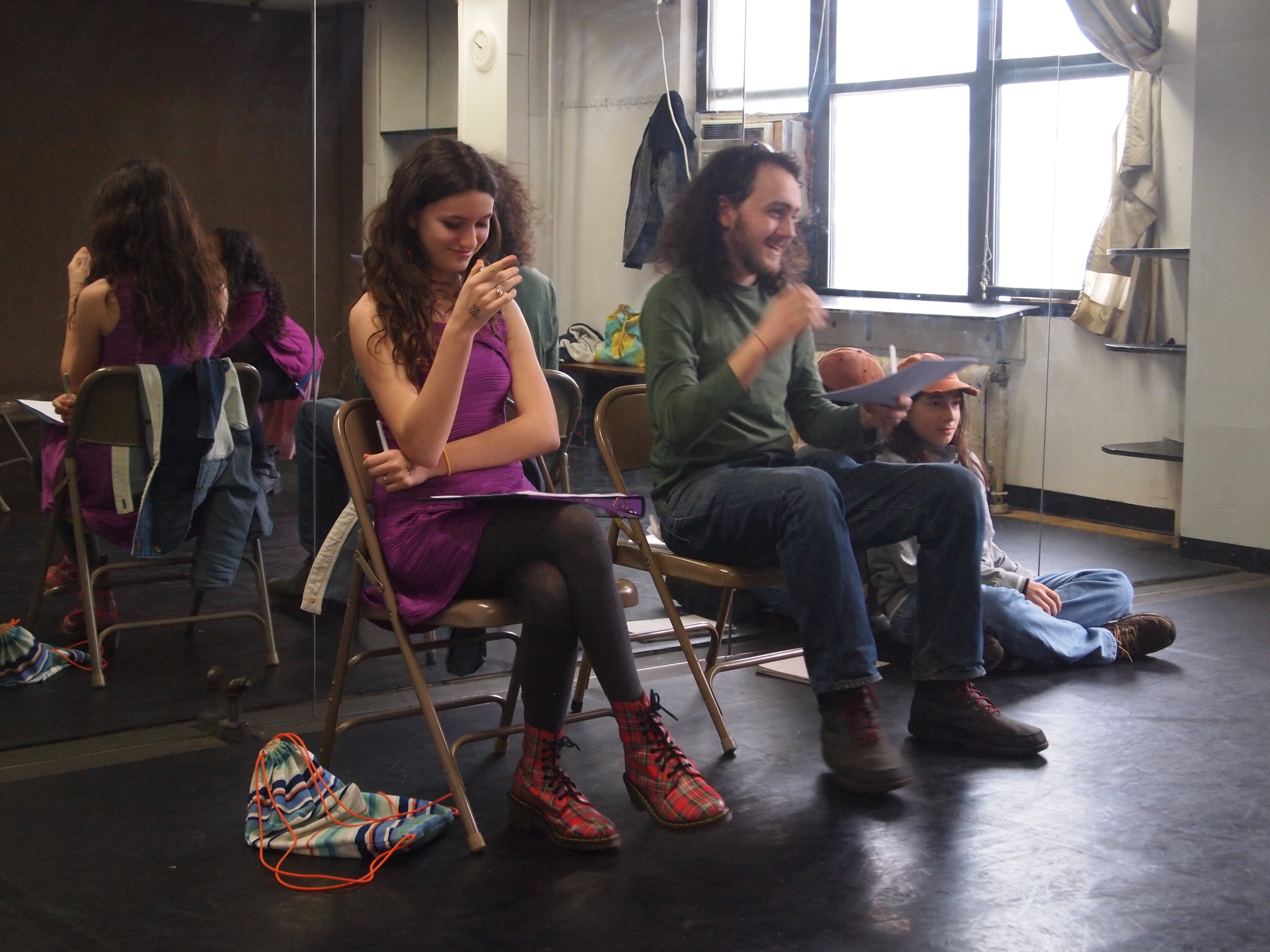 Participants share their work weekly, receiving constructive feedback from both their peers and instructor.
In the process, not only do they develop and revise their original work and see it performed, but they also learn to offer and receive constructive criticism in a supportive and friendly environment.
Through the workshop and festival process, participants have the opportunity to write original dramatic scripts, do table-reads of peer work, participate in rehearsals of their plays, and see their new work performed by real actors in our seasonal staged reading festival!
*NEST rehearsal and performance photos featured are from Spring 2017 Festival.
tweens' Intro to improv (ages 9-12)
MONdays 10:30am - 12:00pm
im·prov
/impräv/
noun (informal)
1. Improvisation, a theatrical technique that focuses on creating unscripted spontaneous performance.
In Tween's Intro to Improv, young performers ages 9–12 will train in the fundamentals of improv performance, use games and exercises to hone their skills, and practice together to form a balanced, cooperative team. Using techniques from several renowned schools of improv, participants will learn how to create grounded scenes for comedy and for drama, make use of several important formats for long-form performance, and especially how to think on their feet.

Improv is a fun, cooperative activity that teaches team-building and quick problem solving, and is very useful for those theatrically inclined, or just seeking to come out of their shell.
Improv practice (by sofia negron)
Improv showcase (by habie schwarz)
PAST CLASSES:
PECK: Scene Study for Young Actors (Ages 13+)
Firebird Peck is a scene-study studio class for young actors. Over the course of a semester, acting trainees hone their performing skills through hands-on application in scene-work, expanding their acting toolbox through exploration of various acting methods and approaches. Participants have a chance to workshop and improve their performances based on instructor and group feedback, with a strong focus on personal reflection and in-class discussion.
The practice of scene study is a highly valuable learning tool both for beginning actors and seasoned performers. The skills these young actors acquire are valuable in any theater setting as well as in all other walks of life. Throughout the semester, students workshop a number of scenes, and the class culminates in a student showcase where the actors have a chance to present their newly-crafted performances in front of a live audience.
About the instructor:
Leo Lion is the founder and artistic director of Firebird Youth Theater, the award-winning teen-run theater company. Leo has directed eight Off- and off-Off-Broadway shows with Firebird in the past six years (four of which have received multiple awards from National Youth Arts). He is a playwright whose work has been produced by Writopia Worldwide Plays Festival, Downtown Art, and Firebird and received awards from WWPF and Young Playwrights Inc. Leo is also an actor, who performed in over a dozen shows with different theater companies. Leo has taught the following classes for kids: Firebird NEST Playwriting Workshop, Tween's Intro to Improv; Improv: Foundations in Scenework; Worldcrafters Creative Writing Workshops; Programming and Animation in MIT Scratch; and the award-winning MovieMaster Youth Film Studio. To learn more about Leo, visit www.leolion.com